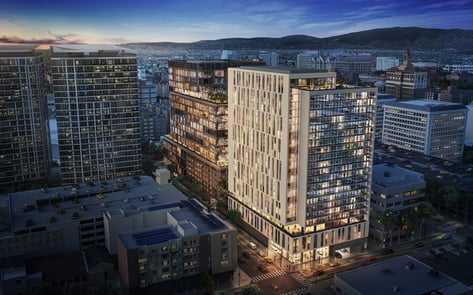 Urban Catalyst is focused on ground-up development projects in downtown San Jose. As both fund manager and local developer, we are in a unique position. We have experience creating ground-up development projects in downtown San Jose.
FUND I SUCCESS

We are proud of our success in Urban Catalyst Opportunity Fund I LLC ("Fund I"). Fund I was a multi-asset real estate fund focused on ground-up developments consisting of office, mixed-use, student housing, senior housing and a hotel. By the time we closed our offering on December 30, 2020, we had not only acquired all of our projects but had also surpassed our fundraising goals by raising a total of $131M from a diverse investor base.
ABOUT FUND II
Urban Catalyst Opportunity Zone Fund II LLC ("Fund II") was launched in 2021 with Icon/Echo. Urban Catalyst is already in control of the property for this Fund, which will focus on multifamily rental units and office space in downtown San Jose. This future office and residential project is the epitome of a transit-oriented development. Yards away from the future Bay Area Rapid Transit (BART) Station, it's differentiated by design with large floor-plates, adequate parking and rooftop gardens. It is also across the street from City Hall and only a block away from San Jose State University, providing easy access to many key locations in the downtown San Jose area. It will feature over 300 units of multifamily apartments and approximately 450,000 SF of office. We believe Icon/Echo is a perfect blend of an urban environment in Silicon Valley.