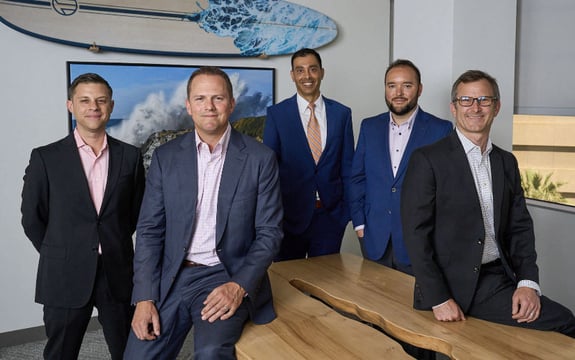 ABOUT US
Proven Track Record
Fund I Success
Fund II
UC Multifamily Equity I LLC
DST
Urban Catalyst is a leading real estate firm specializing in private equity placement into existing ground-up development projects and income-producing properties. Our fund portfolio includes tax-advantaged Opportunity Zone funds, a traditional real estate private equity fund and a Delaware Statutory Trust (1031 like kind exchange) funds.
The company's Opportunity Zone, focused on downtown San Jose, California, ranked among the top 5% of all 2021 tracked Opportunity Zone fund sponsors according to the research firm Novogradac, and was named a top ten Opportunity Zone fund by Forbes. Urban Catalyst's home market, San Jose, was recently named the #1 city in the U.S. for attracting innovation-oriented industries by the real estate services firm JLL and has been recognized as the #1 region in the country poised for post-pandemic recovery by Bloomberg.
The traditional real estate private equity fund is focused on the ground-up development of Aquino, a 272-unit multifamily apartment building in downtown San Jose, California. The Fund is structured to allow qualified retirement plan investments.
The company's first DST allows investors to invest in an industrial property in Dallas, Texas. Industrial Fund I owns a single-tenant, 44,765-square-foot industrial building seven miles from downtown Dallas.
The company is both a fund manager and developer and its Partners have a substantial background in ground-up development:
$5.0 Billion + in development projects

$5.2 Billion + in real estate asset acquisitions

200+ real estate properties developed across a variety of asset classes

Over 2,000 residential units that are now located in opportunity zones
Urban Catalyst Opportunity Fund I, LLC ("Fund I") closed on December 30, 2020, raising a total of $131 million from a diverse investor base. We are proud of our success in Fund I - a multi-asset real estate fund focused on ground-up developments consisting of office, mixed-use, student housing, senior housing and a hotel, which we had acquired by the time we closed our offering.
Building on the success of Fund I, which closed in 2020 after raising $131 million, Urban Catalyst launched Urban Catalyst Opportunity Zone Fund II, LLC in 2021 with a two-tower development named Icon/Echo. The company intends to redevelop one side of a city block into an approximately 500,000-square-foot office tower (Icon) and an apartment high-rise with nearly 400 units (Echo).

Icon/Echo is part of Fund II's diverse portfolio of ground-up development projects, consisting of a Marriott TownePlace Suites called Keystone and a senior living facility named Gifford Place. Urban Catalyst's demolition subcontractor began clearing the Keystone site in February 2023. The company expects to complete the 176-key hotel during the first quarter of 2025. For Gifford, Urban Catalyst demolished the project site in 2022 and is scouring the market for construction financing to take the 169-unit senior living project vertical.
The UC Multifamily Equity I LLC ("UCME") Fund is structured as a traditional real estate private equity fund focusing on the ground-up development of Aquino, a 272-unit multifamily apartment building in downtown San Jose, California. The Fund is structured to allow qualified retirement plan investments.
Urban Catalyst Industrial I, DST was launched in 2023, and is strategically located less than seven miles from the heart of downtown Dallas and houses the Automotive Processing Facility for Drive Casa. Dallas - Fort Worth is the 2nd largest industrial market in the US and the tenant, Drive Casa, has a long-term lease that includes contractual escalations.
THE URBAN CATALYST TEAM
Founded in 2018 in response to the 2017 Tax Cuts and Jobs Act legislation creating Opportunity Zones and Opportunity Funds, Urban Catalyst is transforming opportunity into impact. Our partners have significant experience acquiring and managing properties and performing ground-up development. With a team of real estate experts holding strong relationships with local property owners, developers, and financial institutions, Urban Catalyst is able to successfully specialize in multiple product types including multifamily, office, warehouse, industrial, mixed use, and masterplans.
Leadership
Development
Investor Relations
Administration
LEARN MORE
Get In Touch With Our Team