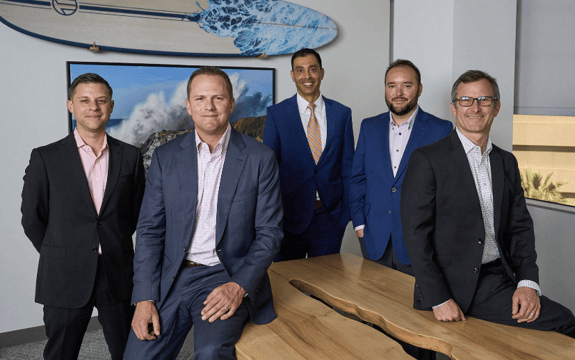 ABOUT US
Proven Track Record
Fund I Success
Fund II
Urban Catalyst is a leading real estate equity fund manager and development company focused on ground-up projects in downtown San Jose, California. The company ranked among the top 5% of all tracked Opportunity Zone (OZ) fund sponsors as measured by capital raised as of December 31, 2021, according to the research firm Novogradac, and has been named a top ten OZ fund by Forbes.
$5.0 Billion + in development projects
$5.2 Billion + in real estate asset acquisitions
200+ real estate properties developed across a variety of asset classes
Over 2,000 residential units that are now located in opportunity zones
Urban Catalyst's home market, San Jose, was recently named the #1 city in the U.S. for attracting innovation-oriented industries by the real estate services firm JLL and has been recognized as the #1 region in the country poised for post-pandemic recovery by Bloomberg.
Urban Catalyst Opportunity Fund I, LLC ("Fund I")
closed on December 30, 2020, raising a total of $131 million from a diverse investor base. We are proud of our success in Fund I - a multi-asset real estate fund focused on ground-up developments consisting of office, mixed-use, student housing, senior housing and a hotel, which we had acquired by the time we closed our offering.
Urban Catalyst Opportunity Zone Fund II, LLC ("Fund II") was launched in 2021, and it has completed a successful first year of fundraising and is currently open to investors. Fund II projects include nearly 400 residential units and approximately 500,000 square feet of office located across the street from City Hall and a block away from San Jose State University. In June 2022 Fund II surpassed $100 million in fundraising. This is an important milestone as Fund II reached it a full 40% faster than Fund I.
THE URBAN CATALYST TEAM
Founded in 2018 in response to the 2017 Tax Cuts and Jobs Act legislation creating Opportunity Zones and Opportunity Funds, Urban Catalyst is transforming opportunity into impact. Our partners have significant experience acquiring properties and doing ground-up development. With a team of local San Francisco Bay Area real estate experts holding strong relationships with local property owners, developers, and financial institutions, Urban Catalyst is able to successfully specialize in multiple product types including multifamily, office, warehouse, mixed use, and masterplans.
Leadership
Development
Investor Relations
Administration
TOUCH
Paul Ring
EVP of Development & Construction | Partner
Paul Ring
EVP of Development & Construction | Partner
TOUCH
Kelly McRitchie
Director of Capital Markets
Kelly McRitchie
Director of Capital Markets
TOUCH
Jonathan Fishpaw
Director of Finance
Jonathan Fishpaw
Director of Finance
TOUCH
Peter Solar
Senior Project Development Manager
Peter Solar
Senior Project Development Manager
TOUCH
Mike Walsh
Project Director
Mike Walsh
Project Director
TOUCH
Matt Bernardis
Project Manager
Matt Bernardis
Project Manager
TOUCH
Jeff Zuckerberg
MANAGING DIRECTOR, CAPITAL MARKETS
Jeff Zuckerberg
MANAGING DIRECTOR, CAPITAL MARKETS
TOUCH
Tom Holt
Senior Development Manager
Tom Holt
Senior Development Manager
TOUCH
Michael Charney
Development Manager
Michael Charney
Development Manager
TOUCH
Dominic Giacalone
Development Manager
Dominic Giacalone
Development Manager
TOUCH
Alex Sinunu
Development Manager
Alex Sinunu
Development Manager
TOUCH
Mallory Menne
Assistant Project Manager
Mallory Menne
Assistant Project Manager
TOUCH
Brittany Bramblett
Project Administrator
Brittany Bramblett
Project Administrator
TOUCH
Ashley Bruni
Office Administrator
Ashley Bruni
Office Administrator
TOUCH
Morgan Mackles
EVP Investor Relations | Partner
TOUCH
Angela S. Hwang
Director of Marketing
Angela S. Hwang
Director of Marketing
TOUCH
Michael Trapani
Head Of Investor Success
Michael Trapani
Head Of Investor Success
TOUCH
Morgan Bernardis
Senior Demand Generation Manager
Morgan Bernardis
Senior Demand Generation Manager
TOUCH
Mohammad K. Obeid
Senior Investor Relations Associate
Mohammad K. Obeid
Senior Investor Relations Associate
TOUCH
Valarie Klopping
Creative Manager
Valarie Klopping
Creative Manager
TOUCH
Samantha Gutierrez
Events Manager
Samantha Gutierrez
Events Manager
TOUCH
Matt Brading
Marketing Specialist
Matt Brading
Marketing Specialist
TOUCH
Alex Chavez
Investor Relations Associate
Alex Chavez
Investor Relations Associate
TOUCH
Sean Raft
Chief Administrative Officer & General Counsel | Partner
Sean Raft
Chief Administrative Officer & General Counsel | Partner
TOUCH
Joan Yurko
Administrative Director
Joan Yurko
Administrative Director
TOUCH
Nicole Park
Senior Director of Tax & Accounting
Nicole Park
Senior Director of Tax & Accounting
TOUCH
Michaella Hutchens
Senior Administrative Associate
Michaella Hutchens
Senior Administrative Associate
TOUCH
Diane Hoang
Administrative Associate
Diane Hoang
Administrative Associate
TOUCH
Erin Sanchez
Senior Tax Accountant
Erin Sanchez
Senior Tax Accountant
LEARN MORE
Get In Touch With Our Team